These stuffed eggplant are full of flavor and pack a healthy dose of vitamins. They are delicious and can be used in place of a salad. You can prepare them ahead and keep in a fridge for up to a week.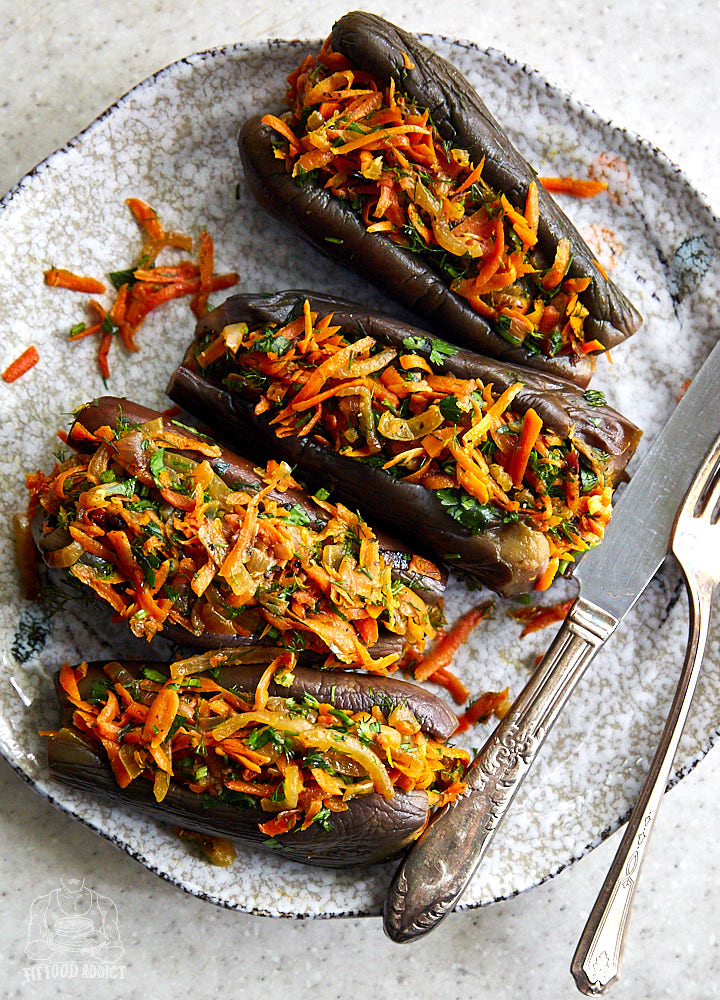 Stuffed Eggplant Recipe
Prep time:
Cook time:
Total time:
Ingredients
6 small eggplant (5.5-6″ long), about 3 lbs
1/2 cup fresh coriander, chopped
1/2 cup fresh dill, chopped
1/4 cup fresh parsley, chopped
3 large garlic cloves, minced
1/2 tsp salt
[br]
[b]For the saute:[/b]
3 large carrots (250 g each), shredded
1 large onion, sliced into half-moons
4 Tbsp olive oil
Instructions
Rinse the eggplant and set aside. Do not cut off the stems just yet. Bring a large pot of water to boil. Add 3 tablespoons of salt and stir. Place the eggplant into the boiling water and boil for 7-10 minutes, until tender. Remove the eggplant from water and place on a large baking tray. Place another tray on top of eggplant, then place something heavy (10-15 lbs) on top. This will help the eggplant release water. Keep the eggplant under weight for about 30-40 minutes.
In the meantime, prepare the stuffing. Heat a large skillet with 2 tablespoons of olive oil. Saute the onions over medium-high heat for about 7 minutes, until golden brown. Add a pinch of salt and a pinch of black pepper while sauteing. Remove the onions form the skillet and set aside.
In the same skillet, saute shredded carrots with two tablespoons of olive oil, for about 4 minutes until softened and aromatic. Add a pinch of salt and a pinch of black pepper while sauteing.
Combine the sauteed carrots, onions, coriander, dill, parsley and freshly minced garlic in a bowl. Taste for salt, pepper and adjust if needed.
Now, prepare the eggplant for stuffing. Remove the weight from the eggplant. Cut off the ends, about 3/8″ from each side. Make cuts lengthwise, but not all the way down, only about 3/4 of the way. Using your thumb, press the flesh of each eggplant to squeeze more water out and flatten it to make more room for the stuffing. Sprinkle a little salt inside each eggplant.
Divide the stuffing into 6 parts. Stuff each eggplant with the stuffing and place cut side up into a closed container. Leave marinate at room temperature for 4 hours, then refrigerate. Stuffed eggplant will store in a fridge for up to a week.
Serving size:
1 eggplant
Calories:
154.1
Fat:
9.1
Carbohydrates:
17.3
Protein:
2.5