Chicken breasts are lean and healthy, and we want to eat them almost daily. The problem is that they can get pretty boring pretty quickly. Here is a recipe for chicken patties made of chicken breast meat and vegetables that are anything but boring. In fact, they are so flavorful, so juicy and so delicious that it will be a while before you start looking for a new chicken breast recipe.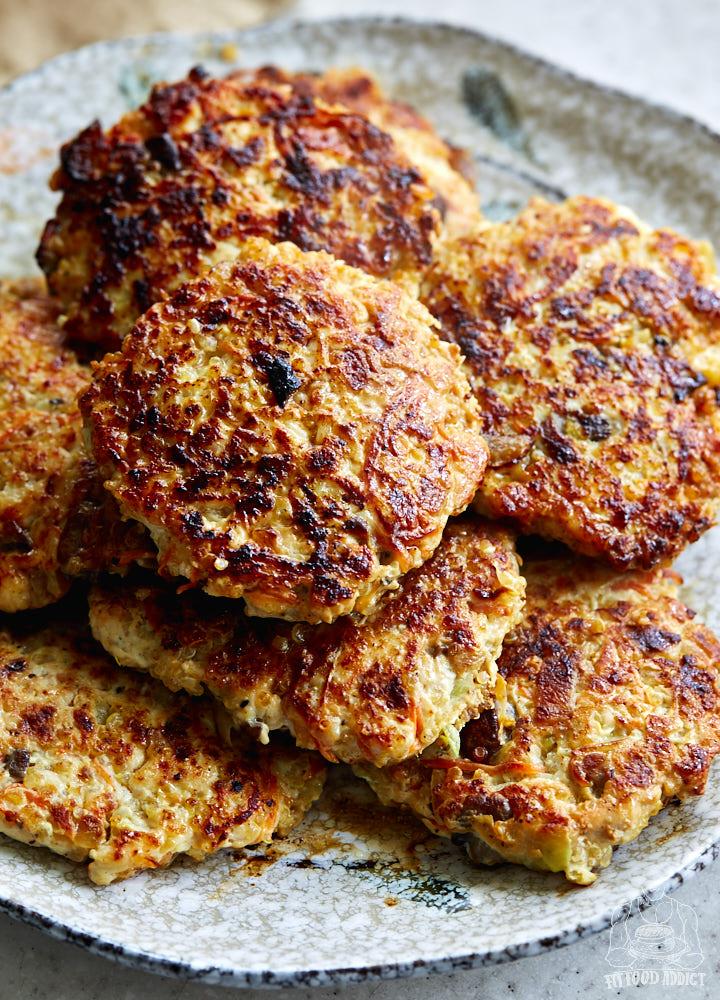 I brought these chicken patties to work for lunch yesterday. Warmed them up in a microwave, brought to my desk and opened the container. The aroma of caramelized onions and carrots filled the area and I could hear people sniffing the air and asking each other what smelled so good. Guess what I am bringing for next potluck?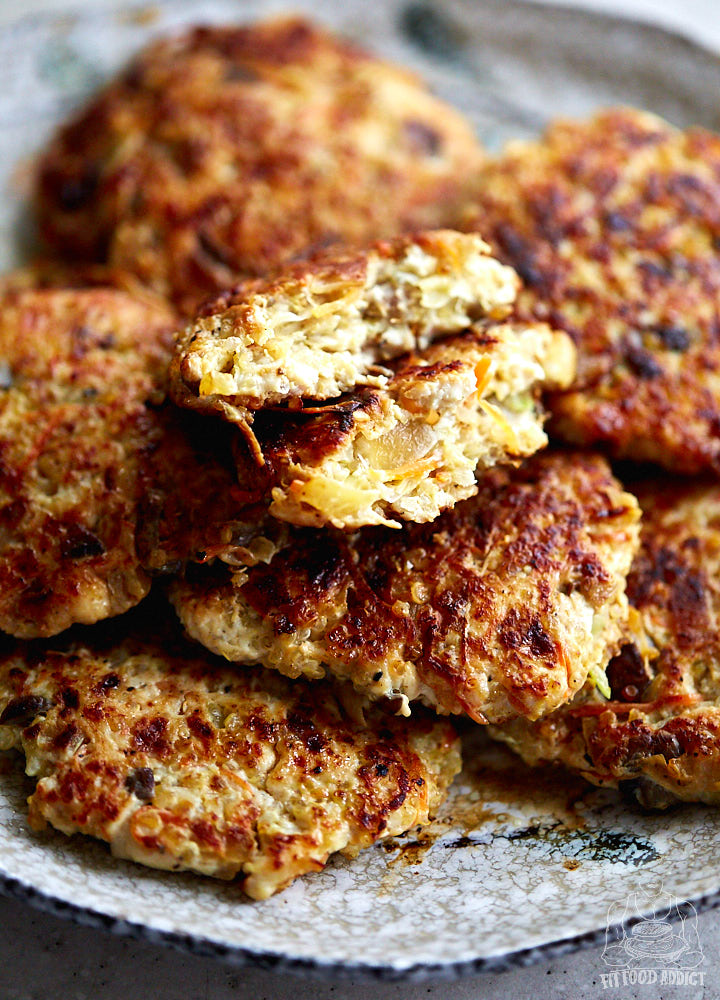 Inside, the patties are very juicy. This is the result of adding the onions, which make any ground meat taste juicier and more flavorful.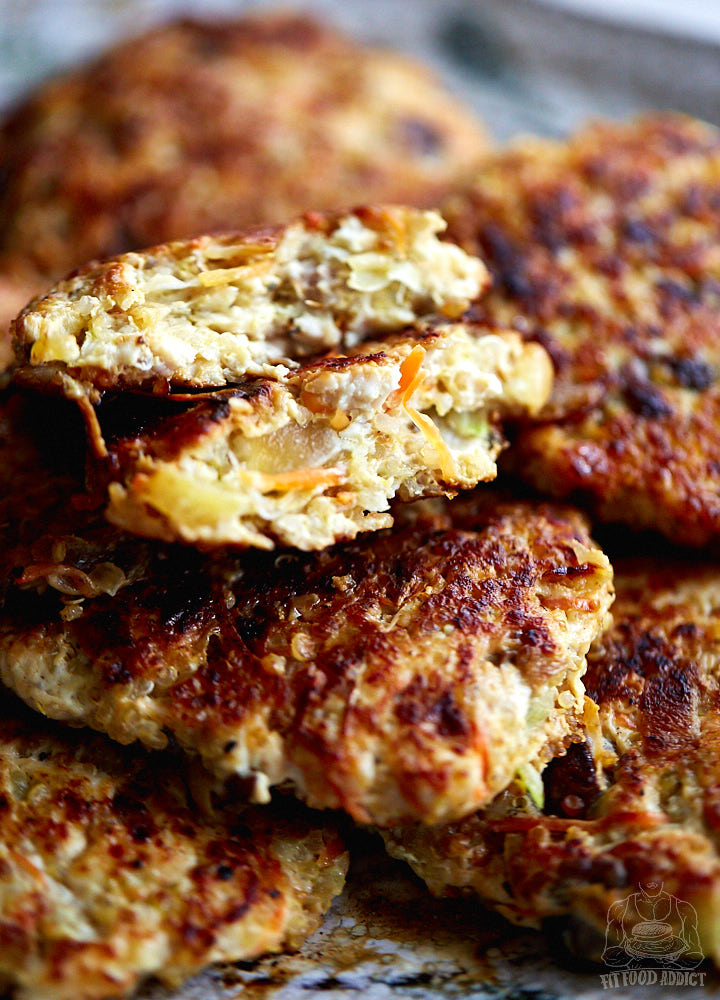 Baking or broiling the chicken patties will lower the calories to 89.2 and the fat to 2.2 grams per serving. Another alternative is to make baked chicken stuffed peppers.
Healthy Chicken Patties Recipe
Prep time:
Cook time:
Total time:
Serves:
20 chicken patties
Ingredients
4 skinless, boneless chicken breasts (about 2 lbs – 2 lbs 5 oz)
1 1/2 cups quinoa, cooked
1 1/2 medium yellow onions (about 8 oz), cut in quarters
2 tsp (12 g) kosher salt
1/2 tsp freshly ground black pepper
1 Tbsp finely chopped dill weed
1 Tbsp fresh finely chopped Italian parsley
6 Tbsp olive oil (if pan frying)[br]
[br]
[b]For the saute:[/b]
1 medium onion, diced
1 large carrot, shredded
2 cups finely chopped mushrooms
2 pinches of sea or kosher salt
1 pinch of freshly ground black pepper
2 Tbsp olive oil for sauteing
Instructions
Heat 2 tablespoons of olive oil in a large skillet, add the onions and saute over high heat for about 5 minutes, until golden brown. Reduce heat to medium-high, add the shredded carrots and continue sauteing for another 3 minutes. Add the chopped mushrooms and saute for another 3 minutes until the mushrooms soften and release some of their water. Add salt and pepper and stir well. Remove from the skillet and set aside to cool down.
Grind the chicken breasts and the onion quarters on a medium size plate. Place the ground chicken and the onions into a large bowl. Add the sauteed vegetables, salt, pepper, quinoa, dill and parsley and mix well. The mix should produce about twenty 3/8″ thick, 3.5″ wide chicken patties.
Heat two tablespoons of olive oil in a large non-stick skillet over medium heat. Place about 6-7 patties into the skillet, cover with a lid and fry for 3 minutes. Flip the patties on the other side, cover and continue frying until internal temperature reads 165F. Repeat until all patties are cooked.
Alternatively, bake chicken patties at 375F for about 15 minutes, until internal temperature reads 165F.
Serving size:
1 chicken patty
Calories:
125.2
Fat:
6.1
Carbohydrates:
4.3
Protein:
12.3